Parlours India offers the best Long Hairstyles for Men that look hot and sexy, especially with braids. A long hairstyle is a perfect option for formal and business events.
Long Hairstyles for Men
1. Long Side Part Hair
By parting your hair, you get a long hairstyle for men which gives an instant volume and beachy feel to you. The main advantage of this style is that it suits any hair type and can be easily styled in different ways for different occasions. You can also go with a long fringe neatly swept aside or you can also try some side swept bangs with the rest of the hair. For a more textured and settled look apply sea salt hairspray and easily scrunch the ends of the hair for some extra dimension.
2. Long Undercut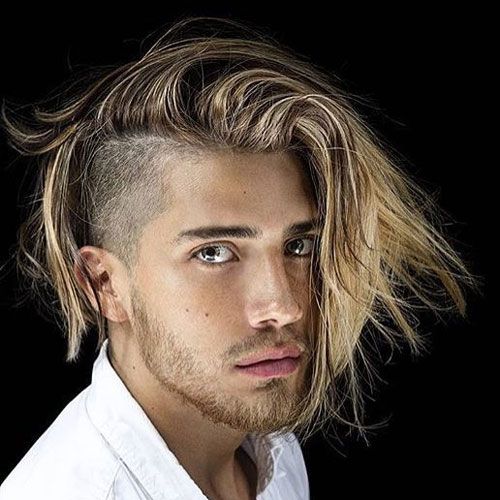 If you are worried about your hair and want to add life to it, this long Undercut is for you to try. Shave all around the sides and back of the head, leaving voluminous hair on the top. It will help you to create a contrast between shaved parts and long hair on the top. Now you can easily style your hair in any style you like. Show off your edgy shaved sides with hair tied up or brushed to the side or comb over it neatly. You can also leave your hair freely to show off that shaved hair peek out.
3. Long And Messy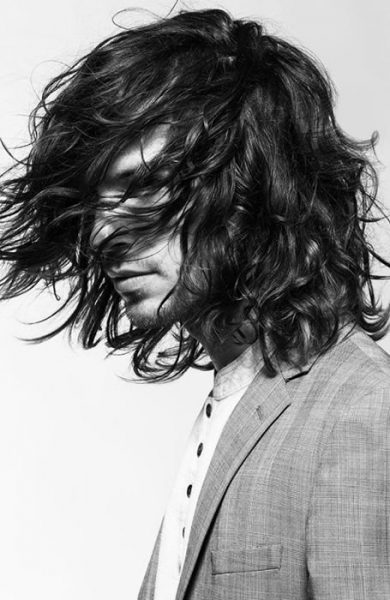 If you want a sexy look combined with just got out of bed vibe then this long and Messy Hairstyle is for you. Use a good amount of hairwax or pomade to achieve this look. You can also use fingers which will comb through your hair and ruffle it up slightly. Carry this hairstyle with a light tee shirt and jeans and you will get that perfect bad boy look that everyone likes.
4. Half Up Hairstyle
This hairstyle is all about the half top of the hair tied in a messy bun or a ponytail and the rest half is left freely. It is one of the best long hairstyles for men to highlight their facial features like jawline and cheekbones. Long hair creates a distinct contrast between up and the bottom hairdos. Gather about a third half of your hair from the top and secure them in a bun or a ponytail but not very tightly, to protect your hair from damage and also it will allow some movement to your hair.
5. Long hairstyle featuring a beard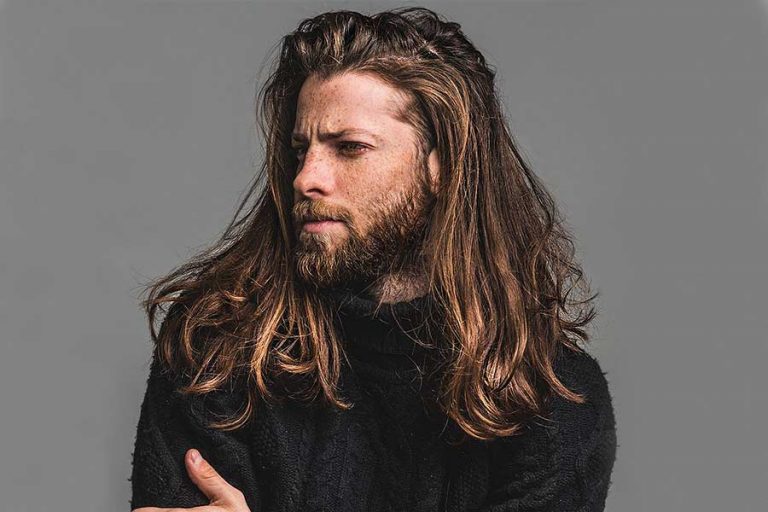 Try this hair look which will combine your long hair with facial hair to create the sexiest look ever. You can also change your beard and hair lengths which will help you to create more styles. And if you want something wild or rugged go with long wavy hair combined with a bushy beard. For a smoother look, pairing your hair with a short subtle look is more sophisticated and gives a neat and clean look.
6. Long slick Back and Tapered sides
This hairstyle gives you another way to sport an undercut. It will give you a different kind of textured hair. The sides are kept short but not shaved or faded. Trying this Hairstyle for long hair gives you a voluminous slick back and a clear short to long contrasting adding visual features. To get a more perfect look, ask your barber to use scissors instead of electric clippers when he is tapering your hair. A chopped taper looks more natural and gives a perfect rugged charm.
7. Comb Over with a roll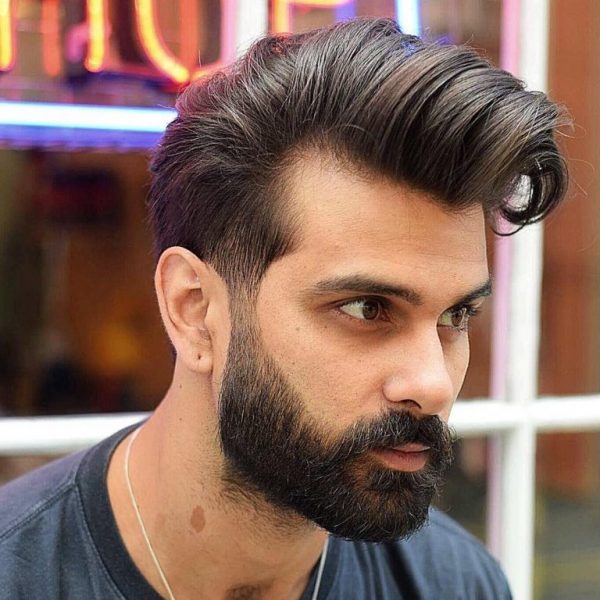 This comb over hairstyle works great on long hair. It is a basic comb over combined with rolls at the end. Using a curling iron curls your hair using a good hair product to give a shape to your hair. The curls will give you a nice touch to your long comb over and also add extra volume and spice to the front hair.
8. Top knot Long Hairstyle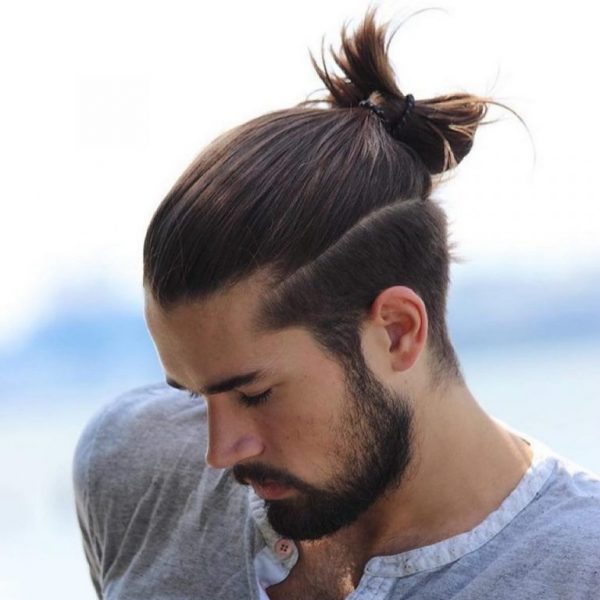 It is one of the most common long hairstyles for men which you can try in 2022. Pull your hair back and fold it in half before tying and securing it with hair elastics. This creates a twisted loop of hair which acts as a quick and simple modified bun. It perfectly keeps your hair at its desired place and set your front hair using a perfect hair spray.
9. Back Undercut with Hooked top
This hairstyle is an extended version of regulation hairstyle. Only the bottom part of your hair is shaved short while the hair at the crown or top and sides are kept longer. The hair can be tied in a bun or a ponytail to show off that buzz cut. This creates a contrasting and subtle undercut and perfect for those who are not ready to go for a full undercut with all around shaved sides.
10. Shaggy Layers Long Hairstyles for Men
These long layered hairstyles may appear messy to you sometimes but setting it using a textured hairspray or hair gel can give a masculine look to you. It gives a perfect shape and texture to your hair. You can keep your layers loose for a natural and carefree look. Use some serum or wax to keep your Shaggy layers at their desired place.
11. Pompadour with Fade
The Pompadour is one of the classic hairstyles which never gets old especially for the long hair category. With extra longer hair you will get an extravagant height for which pomps are known for. If we compare pompadours for short and medium length hair , a longer Pompadour can really make a difference due to the volume it gives to the hair. Keep your sides and back shaved in decreasing short lengths from top to bottom which will form a faded gradient effect which nicely contrasts it.
12. Highlights Long Hairstyles for Men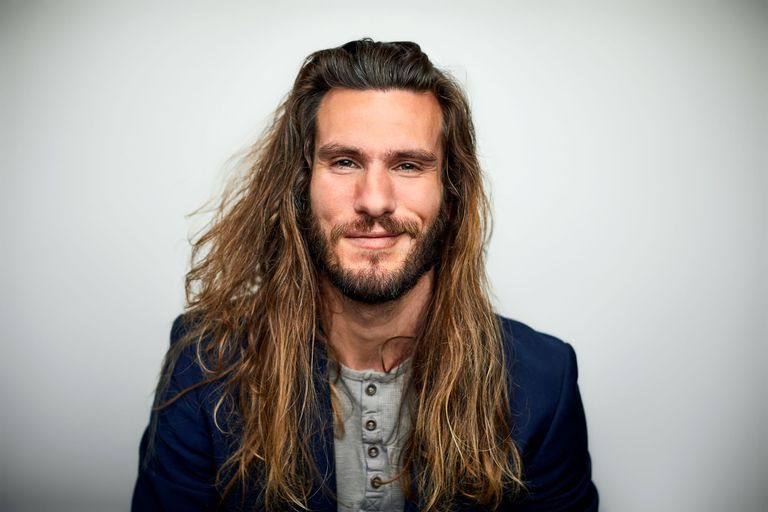 Use various colours to show off your natural long hair and take full advantage of it. If you don't like full colored hair then you can go for highlights which can add subtle hints of color to your hairstyle. Play around the length of your hair with these copper or caramel highlights. Highlights can further accentuate the length of the longer hair as the vertical streaks of hair creates the illusion of longer hair. Use highlights or colors that best complement the natural color of your hair.
13. Bun and Mohawk mix
This mixed hairstyle is perfect for men who want to show off their tough side. It is one of the ambitious hairstyles for bikers and skaters which gives a ruggedness and badass attitude. Shave all the hair on your head leaving a single strip of long hair at the top which creates a half mohawk. Tie your hair back into a bun or a top knot and make it messy or neat as you want.
14. Long Mohawk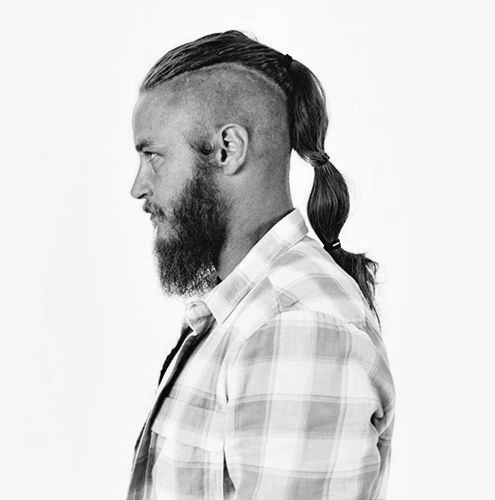 If you want your long hair to freely flaunt in air, this is one of the best experimental
15 Long Ponytail
For men who want a workplace hairstyle this ponytail hairstyle is for them which is very quick and easy to make and carry too. To make this pull your hair neatly at the crown applying some serum which will give you a shine and settled hair look. Tie a ponytail by securing your hair elastic two to three times for perfect hold and movement. To avoid the look from feeling too restricted or severe pull out a few strands in the front and leave them freely to flaunt or you can also tuck them behind your ears as per requirement.
16. Long textured waves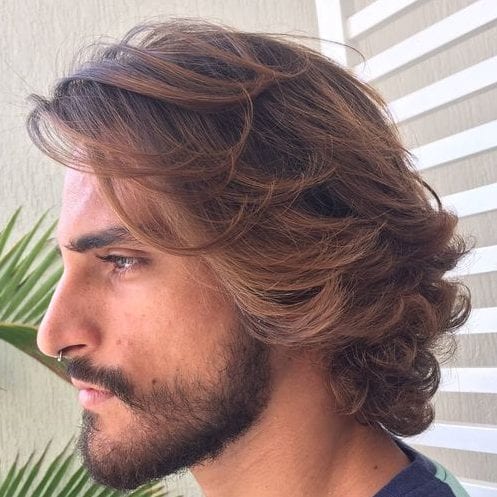 This out and down style is all about the natural texture of your hair which is popularized by Harry Styles the look features a disconnected pompadour. This look is suitable for any face shape and can be easily carried on any hair texture and length. But what best suits this hairstyle is the natural movement of the hair and some wavy layers. To achieve a neat and clean look apply some mousse and good hair gel to set your damp hair and dry it using a blow dryer and once your hair gets dry take some hair from the front section and backcomb it lightly before setting it with a good textured hairspray.
17. Bro Flow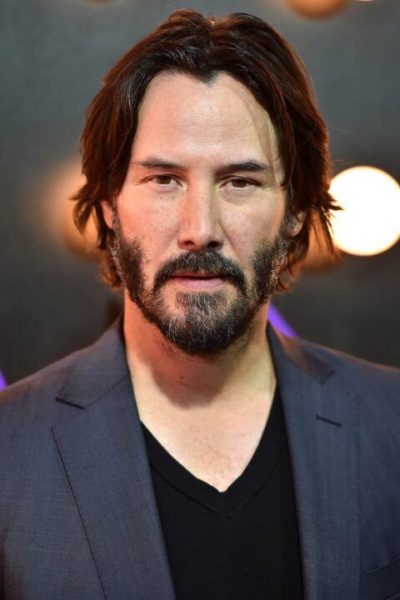 Loved and inspired by many celebrities the bro flow is one of the most effortless cool hairstyles for men having long hair. It is one of the most versatile hairstyles and can be created easily which suits different hair textures and hair lengths. It gives a relaxed and stylish aesthetic look making it perfect for a laid back yet confident man which is practically brushed backwards but the front section falling naturally. You don't require much time in styling this and the hairstyle needs low maintenance.
18. Mid length Hairstyle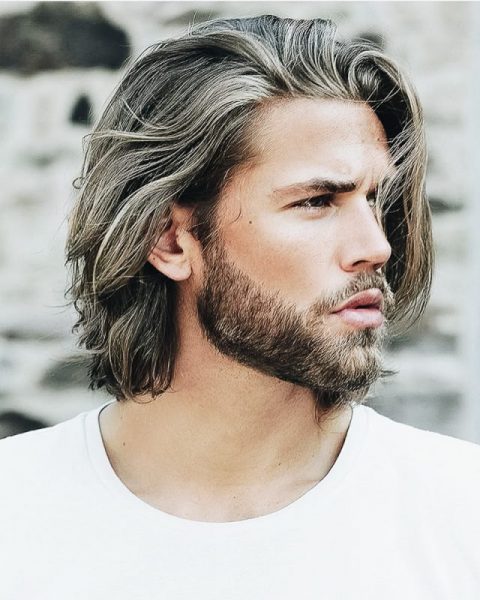 Long hair on man doesnt needs to go past the shoulders, it can also go past to the ears. Where men are adopting short hsirstyles this mid length hairstyle can defientely give your natural lon hair a perfect look. This perfect entry level long hairstyle can be easily achieved by some weight taken out of the hair by your hair stylist. This mid length hairstyle flows well and does not require much maintenance and easily saved from a small amount of foaming mousse and hair cream.
19. Side swept Long Hair
If you have thick and wavy hair, instead of opting for short and easy hairstyles let it freely flaunt on the top. For messy and unsorted curls apply a bit of mousse or hairgel or you can also use other curl enchancer according to your hair type. You need a styling product becuse it will make it look like a y cut hairstyle or instead of looking frizzy and unruly.
20. Easy swept back layered style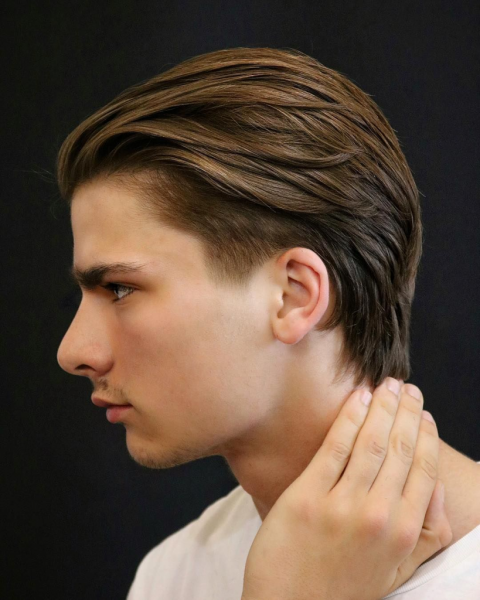 Long hairstyles for men will probably make you think of outdoor hairstyles but a wood dwelling men with tangled locks that cascade down the backs giving an edgy and sophisticated look. Shoulder length hair with soft layers is a great option for those who want to go long without much maintenance and styling them. Try spraying some wet hairspray or a sea salt hairspray and then let it dry naturally or using a blow dryer. The spray will give your hair some grit and a perfect messy finish.
23. Messy Bun Long Hairstyle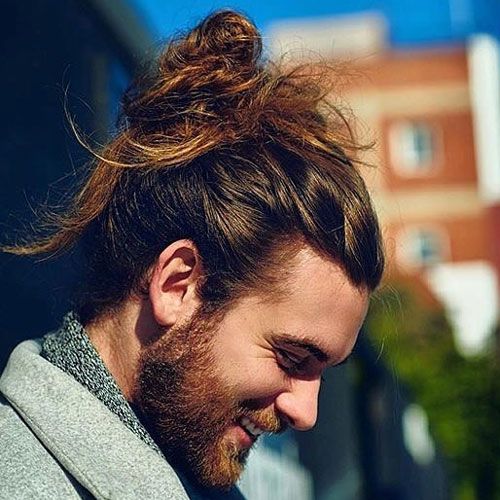 Of all the hairstyles trending, for women or men messy buns always tops the list and a mans is the simplest and sexiest look ever. Its hard to say wheather it is the hipster movement or the uncontrollable appeal of todays generation that make buns so trendy. This hairstyle requires less than a minute to style it. Just gather all your hair and tie it into a high bun securing it with a hair elastic. For a messy look pull out a few strands in the front which will give it the most appealing look .
22. Braids Long Hairstyle
Long braids always allow to try different variations in your hair depending on your mood. The classic and basic braid trend with long hair is perfect for you if you want a stylish haircut with lot of substances as the braids requires very low maintenance but always gives you a striking design. If you want something fancy and more daring you can also braid your hair along the sides and the back and create a bun of the remaining strands into a thick bun.
23. Straight Long Hairstyle
Nothing can beat the classic mens straight long hairstyle, as there is no extra pomp and show. When rightly done by straightening your complete hair using a good hair serum or gel, this style can definitely give you a sleek look. The important thing in this long hairstyle is the length of your hair which keeps your hair trimmed and frizz free.
24. Thin bun long hairstyles
If you are totally a bun guy and you are planning to attend some formal event. Then this thin bun hairstyle is for you which will give your hair a smart and elegant look. Just simply pull your hair back at the crown and tie it into a high thick bun. Using a bit of good hair products to tame it easily. These straight and simple hairstyles always look appealing and sophisticated.
25. Man Bun Braids Long Hairstyle
This one of the fanciest man bun styles which is disheveled yet stylish. This hairstyle suits every occasion whether it's casual or formal. By making man bun braids you get a more refined look with a proper undercut. Also, these man braids don't require any special skills as it can be done simply. It's perfect for those who have no idea how to do a man bun.
26. Half Up Ponytail
If you have a ponytail craze and want to keep your locks behind your ears then this half up ponytail is for you. And it also adds a bold touch to it. Typically enhance your hair with a half up ponytail by gathering the top half of your hair and tying it with a comfortable hair elastic. And now you will notice how it makes a world of difference.
27. Long Fishtail Braids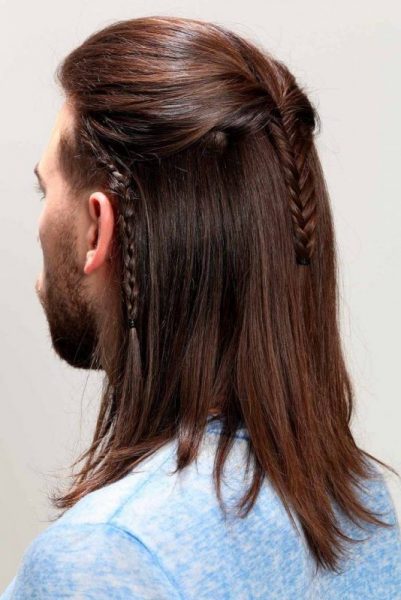 A fishtail braid look has always been one of the classiest hairstyles ever. You can also double the Bohemian effect of men's long hairstyles by doubling or tripling the number of fishtail braids.
28. Surfer Hair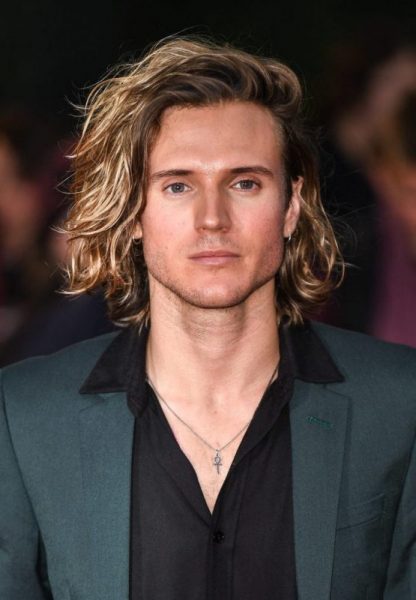 Among wavy hairstyles for men, the surfer look stands Out differently. This very sexy and breezy look gives a coiffure style which looks best with shoulder length surfer hair.
29. Half up Braided Bun
Braided buns are an easy and effective way to provide extensions to your normal hair and give you a neat and a clean look. This hair look shows off your proper hair length and highlights your facial features like face contours, cheekbones and jawline. You can make French or Dutch braids as per your choice. Once you get your braids done just gather the top section of the hair and create a loose bun securing it with a hair elastic. Pull out a few strands as per your choice to give it a Messy look. Complete this look with a long beard.
30. Braided Top Low Fade
Many braided hairstyles have become popular in recent years. Guys with long hair have a good chance to experiment different kinds of hairstyles on their hair which includes French and Dutch braids for men.keep the sides of your hair in top low fade and top section of the hair in French Or Dutch braids.
31. Shoulder Length Side Part
As far as mens long hairstyles go, this one look will definitely add the touch of maturity with the feeling of carefree vibe.
32. Shoulder Length Long Hairstyle
Shoulder length may seem hard to handle especially for men who used to keep their hair short. But no worries if you have a thick natural hair this look is not only easy to carry but also need very low maintenance. Try spraying some textured hair spray on your wet hair or you can also use sea salt hairspray and dry it using a blow dryer or naturally. It will give your hair a messy finish.
33. Layered Bob For men
With all the new inspiring hairstyles trending today we are seeing lot of guys keeping long hair nowadays. Long straight for men can actually be something equal to short hairstyle for women. Yeah you guessed it right, we are talking about the Bob hairstyle. This short chic hairstyle is specially loved by women as it gives a long, hipster and infatuated look.
34. Dashing wavy long Locks
If you have extra long hair try this spendid wavy hairstyle and go for a classic hollywood style by brushing your grown Mane backwards. Keep it in its desired place by running some hair gel before you start styling. Pair this coolest hairstyle with long grown beards which will add more charm to this look.
35. Wavy Braided Do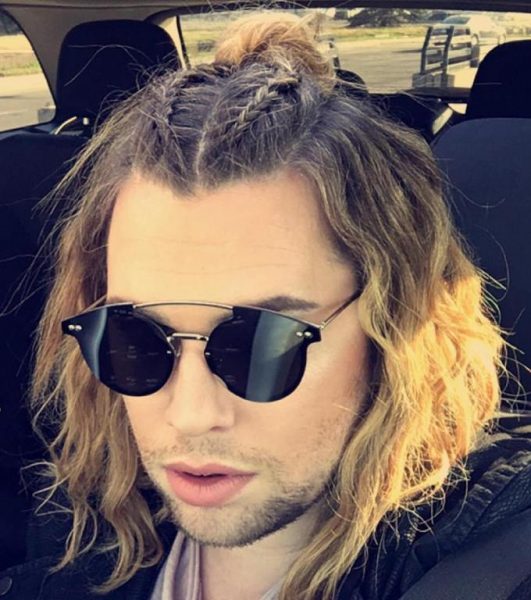 If you don't have enough time to go for a Dutch or a French braid or a cornrow then your simple and normal braids is for you. Take hair from the middle and brush neatly the two left sides. Now make simple braids from the middle hair and secure it with hair elastic at the the bottom. This will keep your hair out of the way during a gym session and also helps you to show off your length.
36. Sleek and smooth Bun
Among the most popular men's long hairstyles the buns have always been one of the most elegant hairstyle. Buns whether be messy or smooth this style is hot and smooth. Apply some hair gel through the top of the hair and securing it into a sleek chic bun and tieing it up with a hair elastic or a pin.
37. Men's half up pony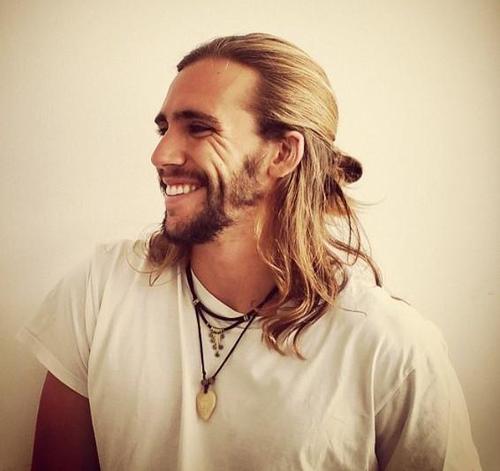 This half up pony hairstyle is basically 90s inspired also known as semi bun which only requires to pull half of your top hair into a loose bun and securing it with hair elastic. It's simple and sleek divide your hair into two parts and horizontally tie the upper part. It gives the desired look you want.
38. The semi Bun Hairstyle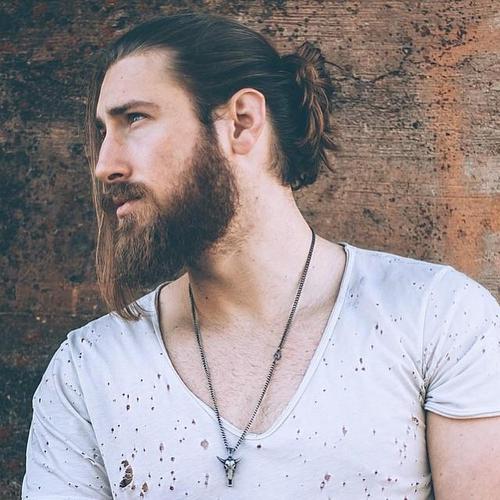 It's basically not a full bun because tips of the hair is not tucked inside but left out to give a devil and a carefree look. It's a type of attitude that you would expect from a surfer but it also gives a charming hairstyle on more urban males. Just part your hair in two sections and tie the top section in a loose bun. Now pull out a few strands from the front to give a Messy look. It will give you a effortless coolness.
39. Braided Rows Long Hairstyle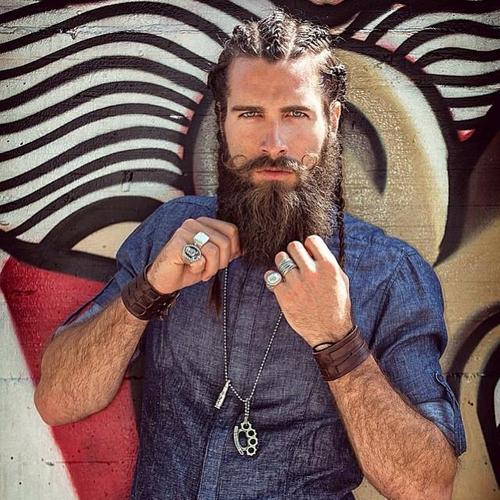 This braided rows will definitely give you a masculine feeling insted of the common feminine braids. Neatly backcomb your hair and divide it into three to four sections. Start making braids of each section and finally securing them with hair elastics respectively. Tie the rest of your hair into a bun or Ponytail or leave it freely to flaunt as you like.
40. Men's Half Up Curly Hair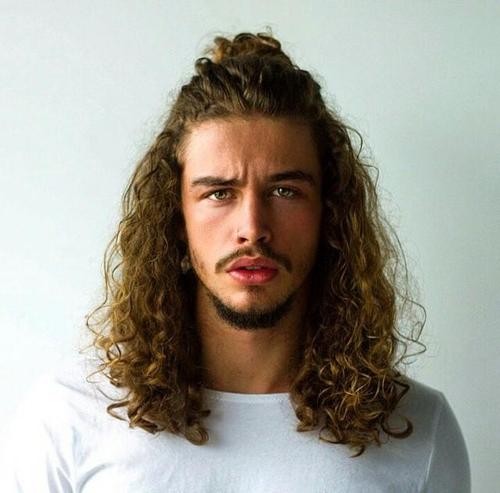 Who said that curly hair alway look messy and unstylish its wrong, because with the perfect hairstyle and perfect hair accessories curly hair can also give your favourite look. It looks absolutely amazing if you have shoulder length hair since it gives the top hair a neat appearance which highlights many of your facial features like cheeck bones, jawline and especially your hazel eyes. And at the same time allow the rest of your hair to give a perfect frame to your face.
41. The Loose Bun
This simple style just requires two simple steps. First pull your hair back and neatly comb it using a good hair serum or hair gel and tie into a knot but not too tight. Pull the end of your ponytail in and out through the bun. Twist it half an wrap it aroun the bun and leave the rest of the hair loose at the back.
42. Shaggy mess with a single Braid
If you want a long hairstyle that doesn't support any extra fuss and grooming then this Shaggy mess with a single Braid Hairstyle is for you. It's easy to do and easiest to maintain. Just waah off your hair and blow dry it properly using hairserum. Then take a small section of your hair and twist it into a single, wispy and simple braid and it's done.
43. Mid Half Bun Long Hairstyles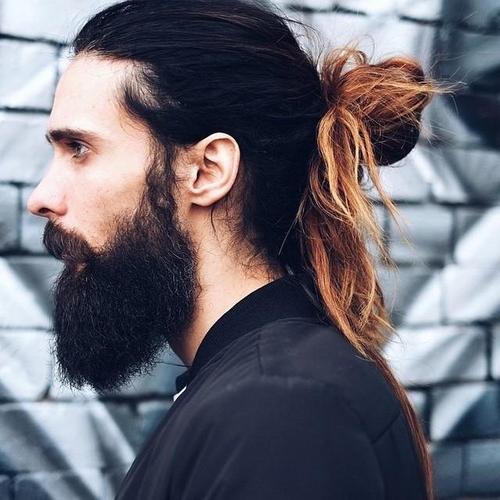 This simple hairstyle is achieved easily by pulling your hair back a bit up. Now tie it into a high ponytail and let the ends stick out. You just don't need a perfect bun as it is a type of message hairstyle. This point will definitely create a Bohemian effect which gives you a just woke up like effect. You can also use some highlights or add an ombre Hairstyle which will add more glam to this look. The highlights add an interesting point to this trendy look.
44. Short Curly Bun
If you have thick natural curls and you want to style them in a neat and clean way then this one's for you. You have to leave the tips loose and tie the rest of the hair at the back into a medium height bun. It simply adds a cute touch to the classic look and helps you to stay cool when the weather's hot and it's very uneasy and messy to style your curly hair.
45. Rough and Random
This hairstyle is truly a blessing if you have dense hair so it would definitely be a crime if you cut your long hair short as his very perfect long hairstyle suits the one having long and dense hair. You can also add some bangs in the front with a longer top which will add a more extreme look. This featuring a rough and Random hairstyle with wavy texture of hair would be perfect with some strategically placed highlights.
46. Dreamer Hairstyle
One length cut is not your choice whereas layers and through trimming for the ends is what your hair stylist would definitely prescribe for hair of moderate density and laid back style like this.It features front short bangs with side and bottom longer hair. It gives you a little messy look.
47. Male Pompadour Long Hairstyle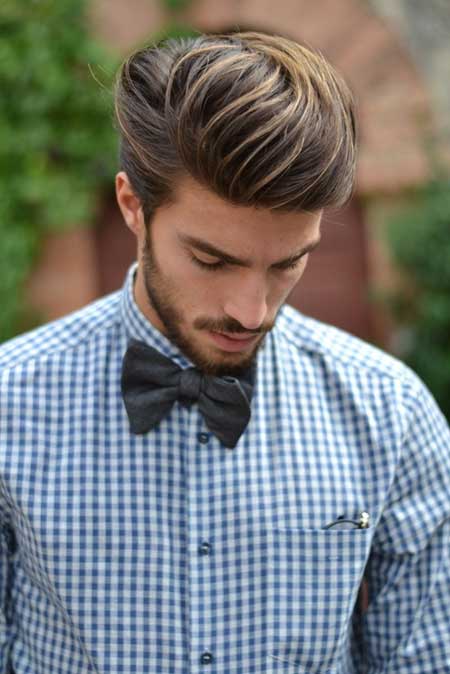 Very trendy and popular from the classic times and centuries, the Pompadour style is still on trend. This hairstyle is achieved by teasing the hair roots on top to create the volume Pompadour. The swept back hair gives you a very volumizing effect. And it will definitely make you stand out from the crowd, especially if it is enhanced by naturally looking highlights.
48. A Halo of Curls
This is the fantastic romantic hairstyle with whipped up breezy curls framing the face. It works naturally perfect for wavy and moderately thick hair. This is the most simple and elegant variation of all curly hairstyles.
49. Sleek low Ponytail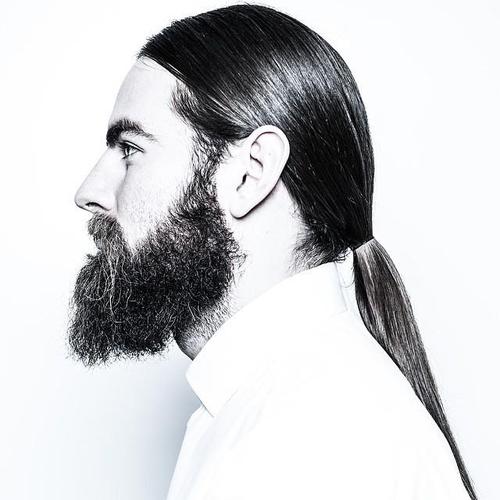 This simple straight Ponytail for long hair. It works only on very straight hair and also requires a small amount of gel or de-frizzing , taming short unruly wisps and added shine. Simply tie your hair into a low and sleek ponytail at the nape of the neck. You can add hair products of your choice to smooth everything out.
50. Statement Bun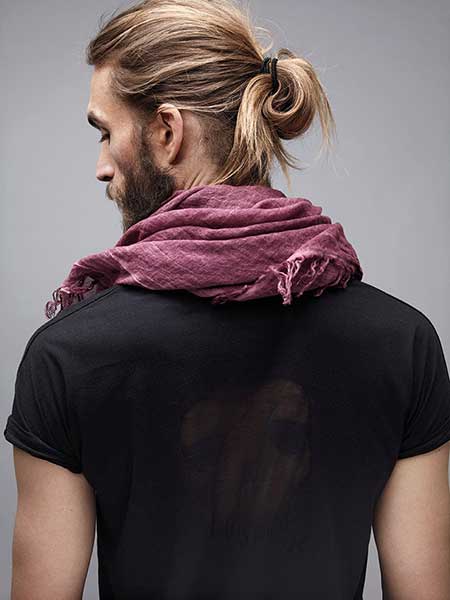 If you love lengthy locks but occasionally prefer to keep them. Sweep your hair back tying it into a loop ponytail and securing it tightly with a hair elastic. Easy and also gives a creative look.
51. Polished Bohemian look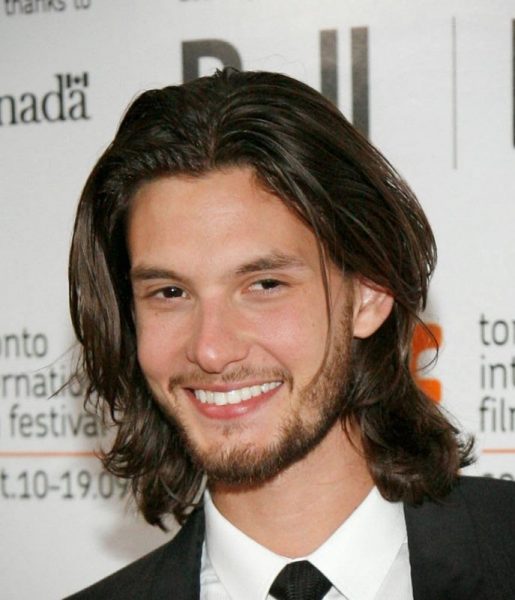 It's one of the most naturally settled glossy locks with subtle parting and some long bangs in the front which creates a nonchalant laid-back look. This hairstyle is loved by artists, actors, photographers, and other creative personalities. Use some hair gel or hair serum to smoothen down the hair which gives you a more smooth look.
52. Beach waves for a formal look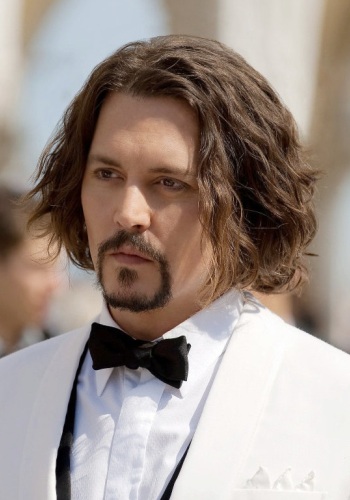 Light beach waves initially work for the rough texture. This natural-looking hair is more associated with vacations. It will blend harmoniously into the formal style. The most famous personality in this hairstyle is one and only Johnny Depp and you can easily duplicate his hairstyle.
53. Random Wavy Texture
Thick, wavy hair settles well in layered hairstyles. You can easily sweep off your bangs on the forehead and use a little bit Of your favorite hair product to bring some natural shine to your cool black strands. It easily styles your hair and needs very low maintenance.
Check this out! We recommend the following article for other beautiful hairstyles:-
– 2022 Top Trend Bridal Hairstyles
– 30+ Trending Best Hairstyles for Girls 2022
– Best Bun Hairstyles (Step-by-Step Guide)
– Latest Hair Cutting Style for Female
– Top 100+ Best Men's Hairstyles
– Top 60+ New Mehndi Designs